About Me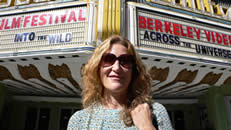 Since graduating from UC-Berkeley with High Honors, I have worked in non-fiction television for the past 15 years as a writer-producer-director for networks including CBS, A&E, Discovery, TLC, and Court-TV.
My documentary debut, In the Name of Love, about Russian mail-order brides, was edited by Yana Gorskaya (Spellbound,) and Executive Produced by Sydney Pollack. It won a Cine Golden Eagle Award, as well as best documentary awards at the Portland Women's Festival, Temecula Film Festival, and Honorable Mention at the Berkeley Video & Film Festival
In the Name of Love was acquired by the Discovery Times Channel and international broadcasters including YLE (Finland,) Kanal 5 (Sweden,) Discovery Health (UK,) Spain's Educational channel and French Canadian TV.
My second documentary film Maybe Baby follows several single women on their journey to becoming mothers. After premiering at South by Southwest Film Festival in Austin, TX, the film played at several festivals, winning the Grand Festival Award in Documentary at the Berkeley Video & Film Festival. The film is available for acquisition by foreign and domestic TV broadcasters.
7 Minutes, my third documentary, a short, follows the lives of sex workers in California. The film premiered at the True/False documentary film festival in Columbia, MO.